The mission of Prime Technical Center is to aid laboratory technicians, professionals, and scientists by providing technical training covering operational and application courses in the fields of : analytical chemistry, life sciences, material characterization, and different laboratory management courses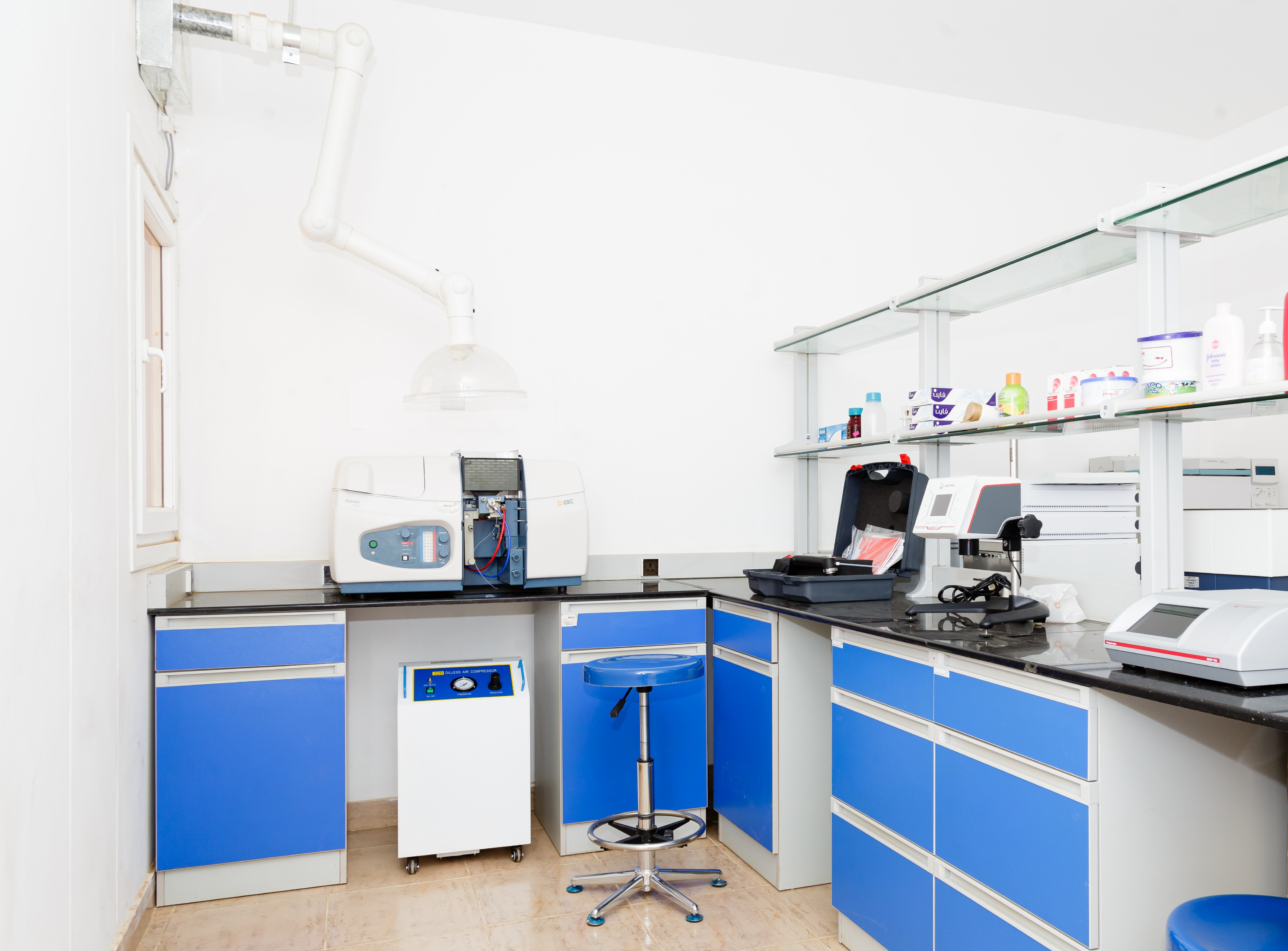 •Training Facility: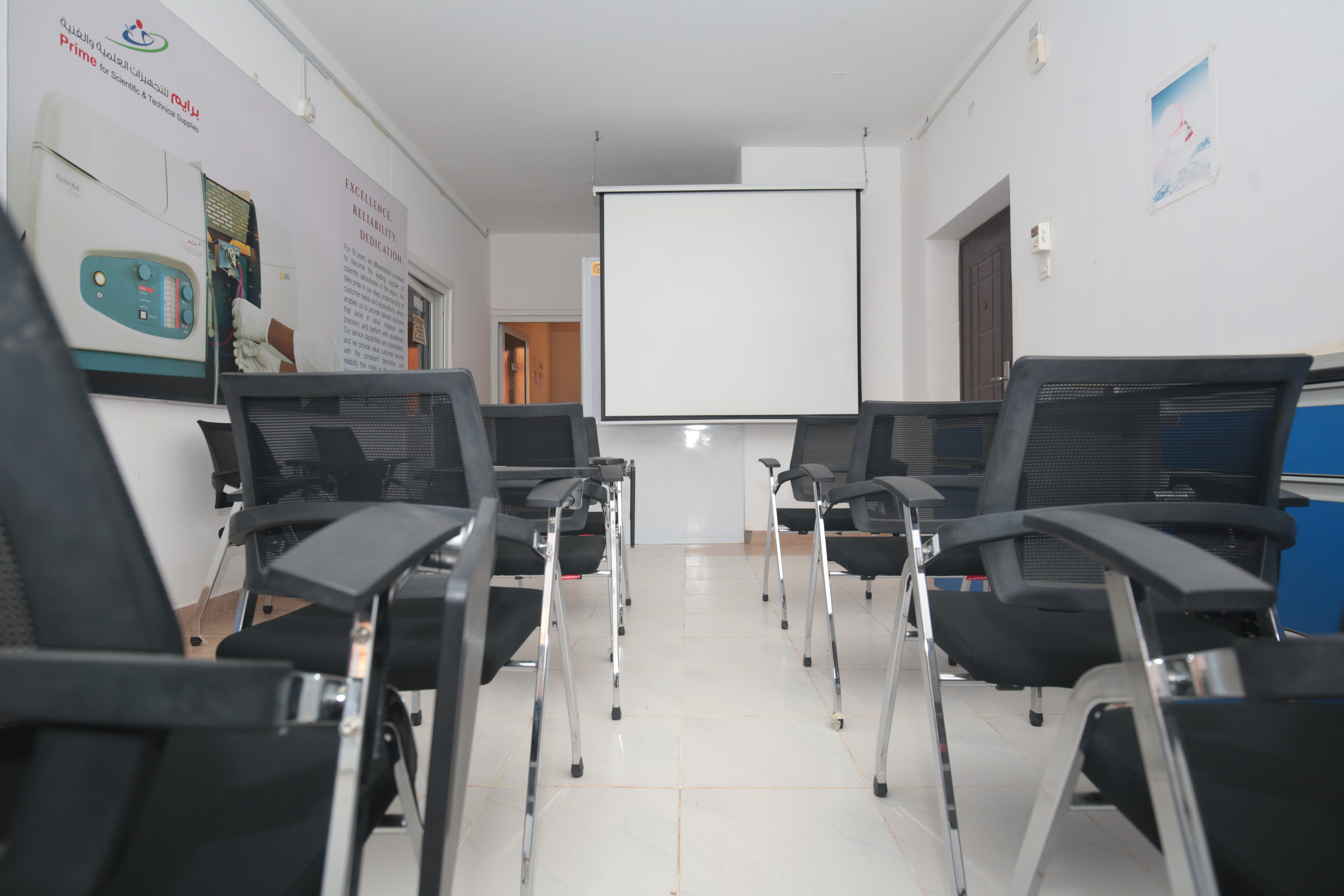 Capacity for 10 attendees
State of the art training facilities
Laboratory standard benches for demonstration while presenting
2 x 2 meter wide projector screen for clear presentation
High speed internet connection for online courses
Instrument Lab for practical training on operation and utilization of laboratory instruments
Service Lab for maintenance and basic operator service training
•Anton Paar Middle East Technical Center: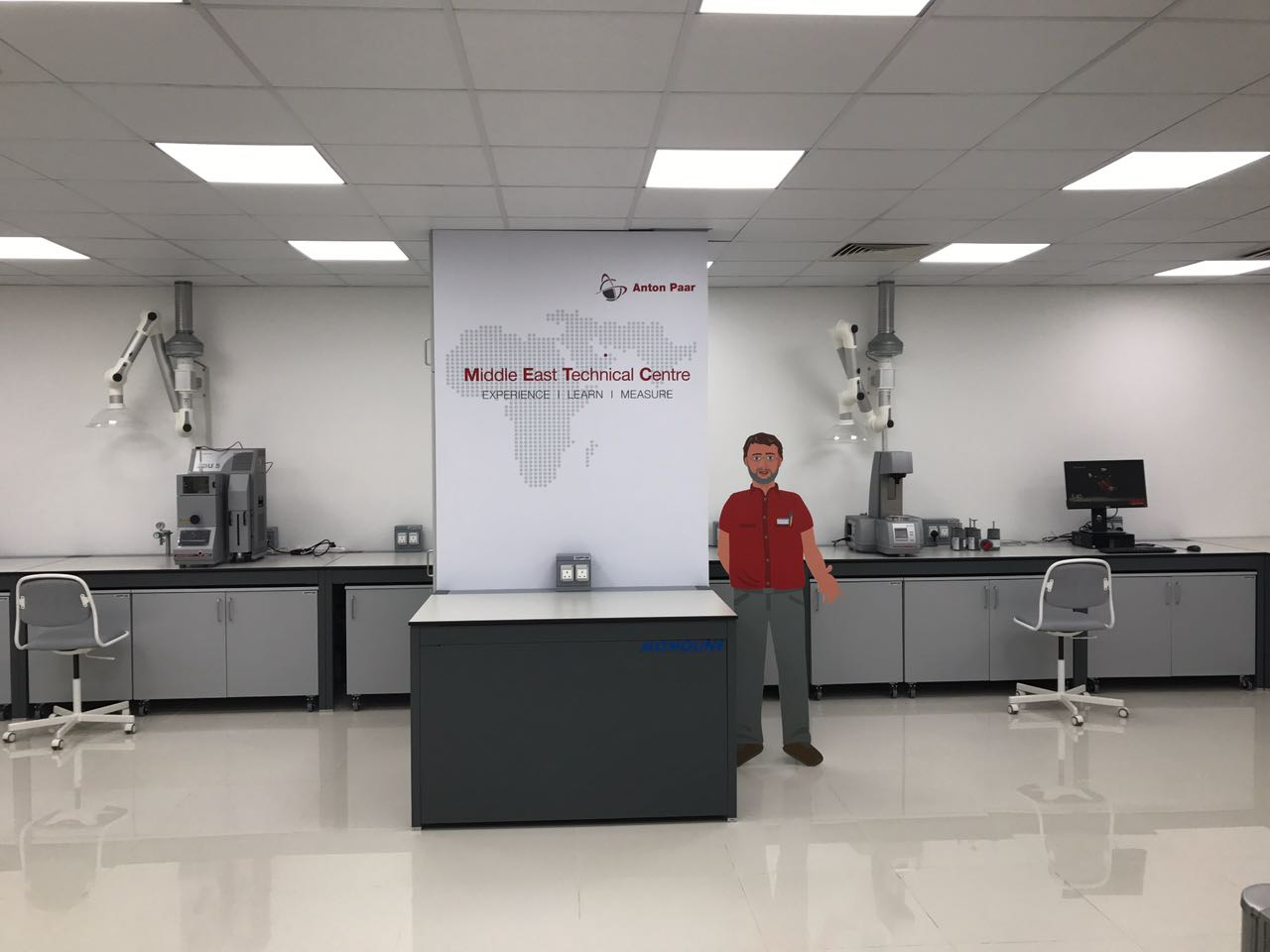 The Middle East Technical Centre is located in Dubai and is equipped with state-of-the-art Anton Paar instruments to serve our customers in the Middle East and Africa. Experience, learn and measure with our experts in the fields of rheometry, particle characterization, petrochemical analysis, and accelerated sample preparation. Visit us and make use of the possibility to speak to our application specialists for various industries. For more information on the Anton Paar Center in Dubai, visit the following page:
https://www.anton-paar.com/corp-en/services-support/anton-paar-technical-centers/anton-paar-middle-east-technical-centre/
•Training Programs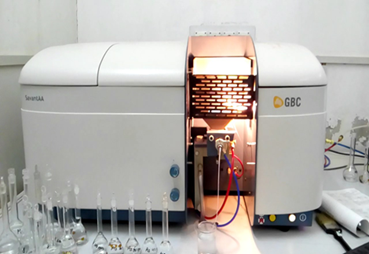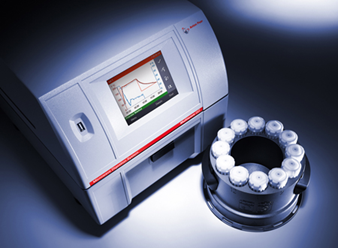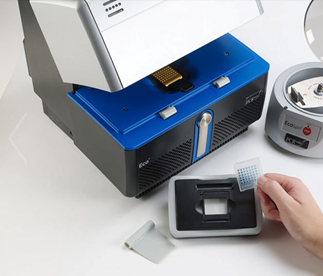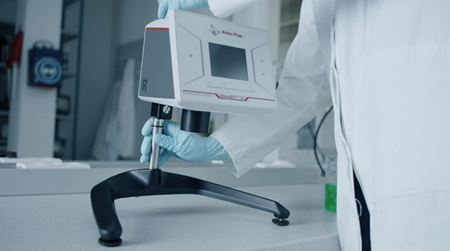 Basics of High Performance Liquid Chromatography (HPLC)
Basics of Gas Chromatography
Basics of Atomic Absorption Spectrometry
Sample Preparation by Microwave Digestion
Pharmaceutical Analysis (HPLC, Polarimetry)
Analysis Methods of Gum Arabic
Basics of Food Safety and Microbiology
Quality Management and The Laboratory
Custom courses also upon request


Registration: Please register by clicking the below link in your internet browser:
https://prime.erpnext.com/training-event-registration
Latest News:
Training in Practical Microbiology in Foods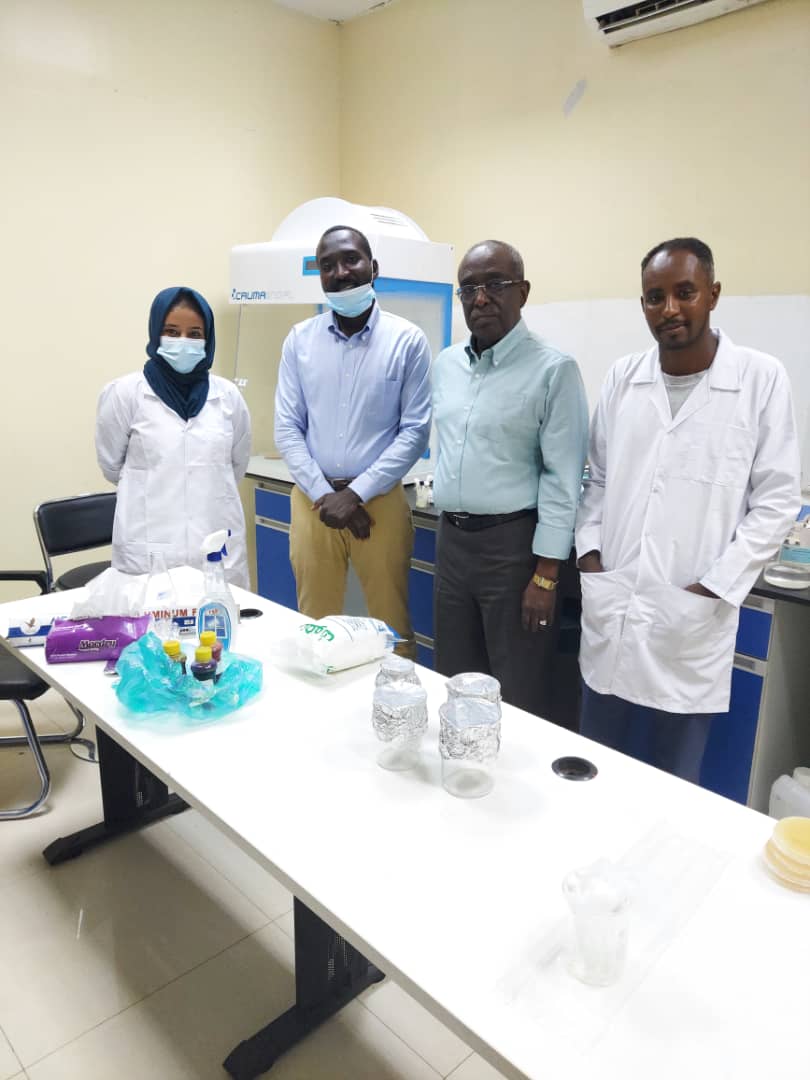 Gedaref, 5th to 9th September 2021
Prime Scientific was pleased to conduct a practical course in microbiology for Delta Pack Food Packaging Factory in Gedaref. The participants were instructed in several microbiological tests like biochemical tests and unsterility procedures.
The course was conducted by Dr. Imad Ahmed , and Mr. Murtada Bakhat, and spanned a period of four days.
Training in Quality Control Methods of Gum Arabic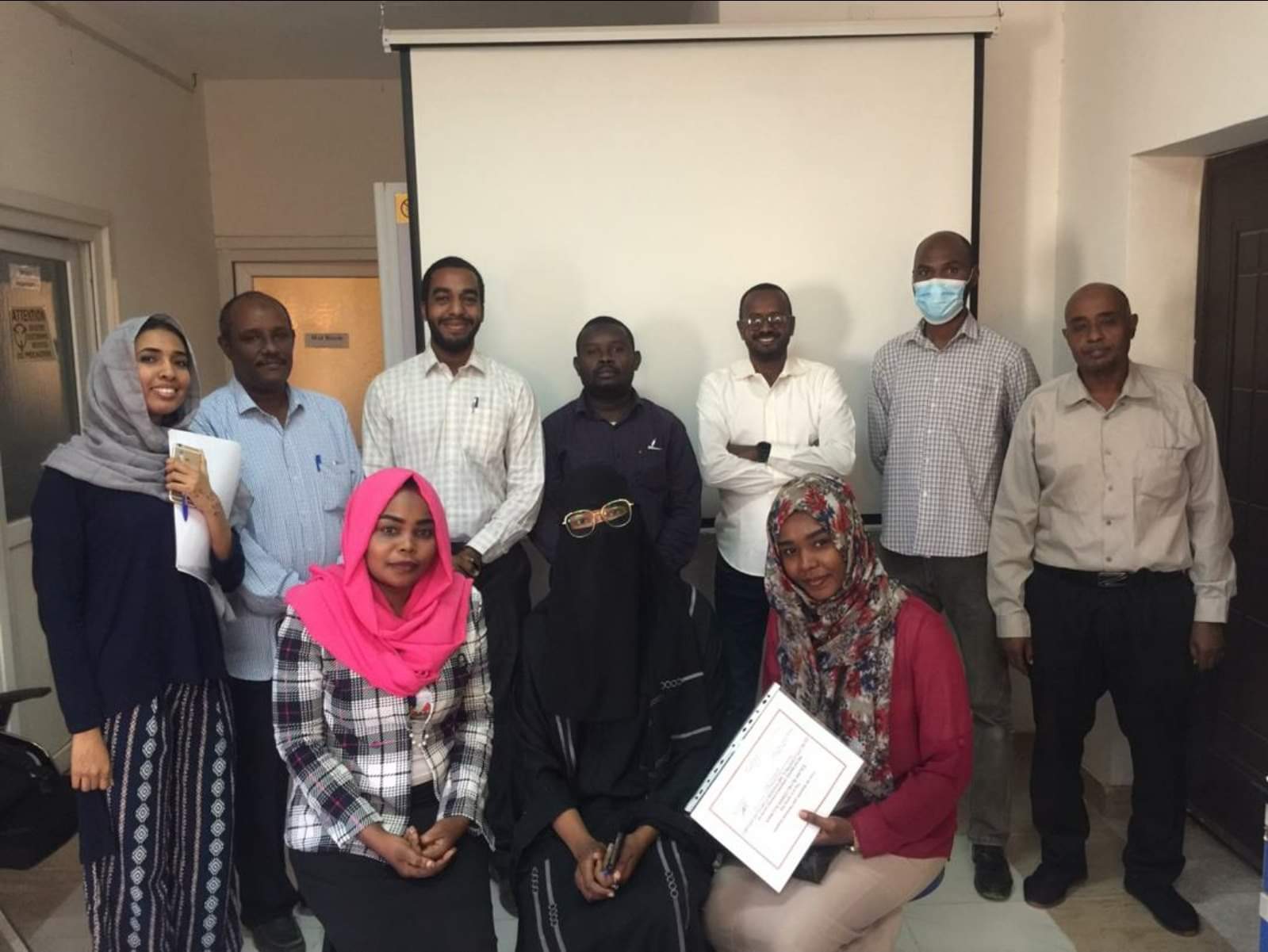 Khartoum, 6th to 8th April 2021
Prime Scientific has organized a 3-Day training workshop for companies, institutions and research centers working in the field of gum arabic and forestry research.
The training workshop was attended by a number of representatives from each field and they were trained on the theoretical aspects of gumarabic with practical application in the laboratory on devices
MCP 100 Digital Polarimeter, ViscoQC 100 Rotational Viscometer, and DBS 60-3 Kern Moisture Analyzer
The physical and chemical properties of gum arabic and the value chain were discussed, and this was linked to the required quality processes and basic tests for classifying gums and controlling its quality.
Training in Food Safety and Microbiology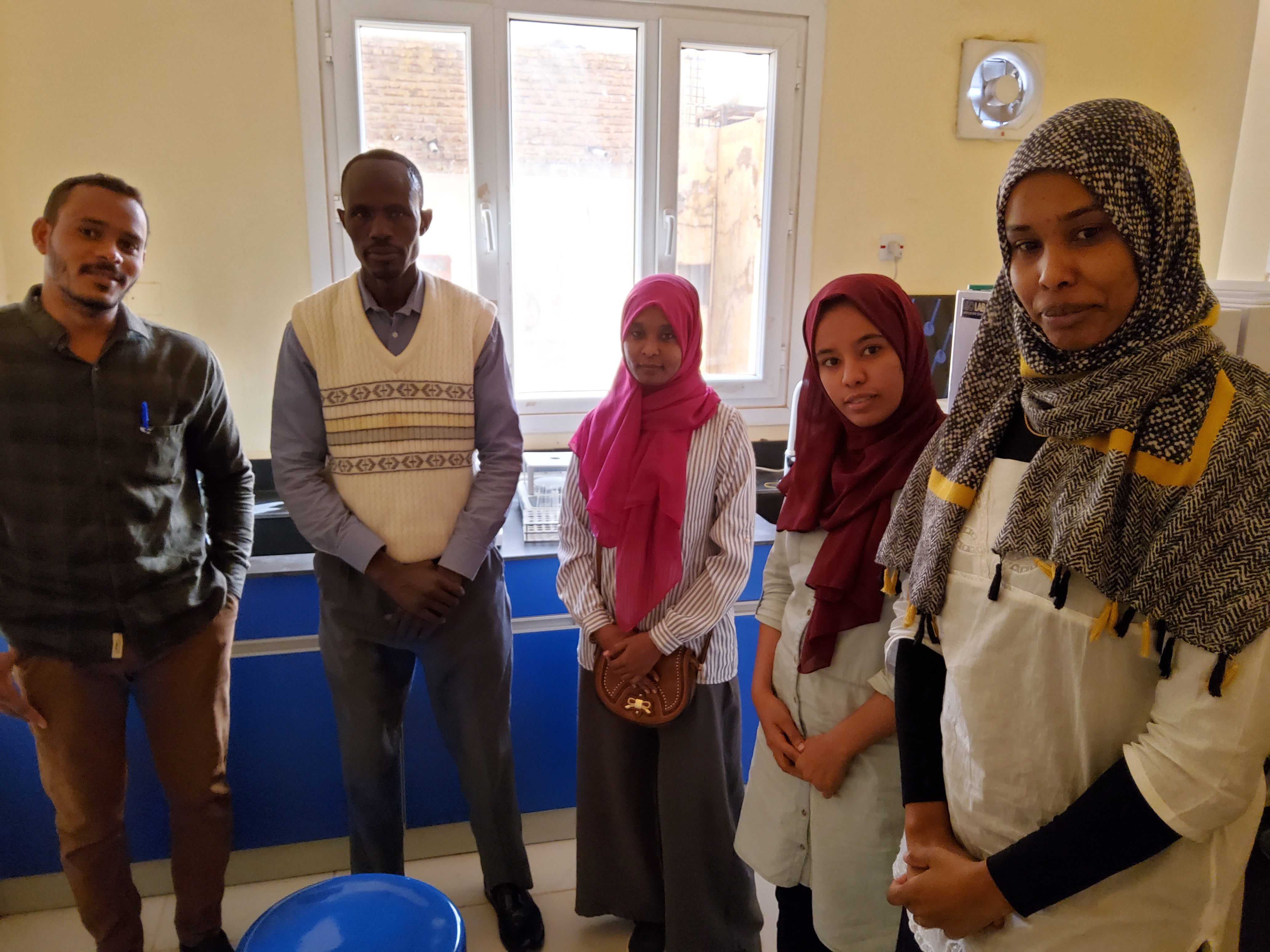 Khartoum,16 to18 February 2021
In The Prime Technical Center, we were delighted to host Delta Food Packaging Factory for the seminar titled; Introduction to Food Safety and Microbiology.
The three day seminar which included both theory and a practical training explained the basic knowledge of food safety and microbes testing and identification, and how to use lab equipment in food quality control.
Training in Basics of Atomic Absorption Spectroscopy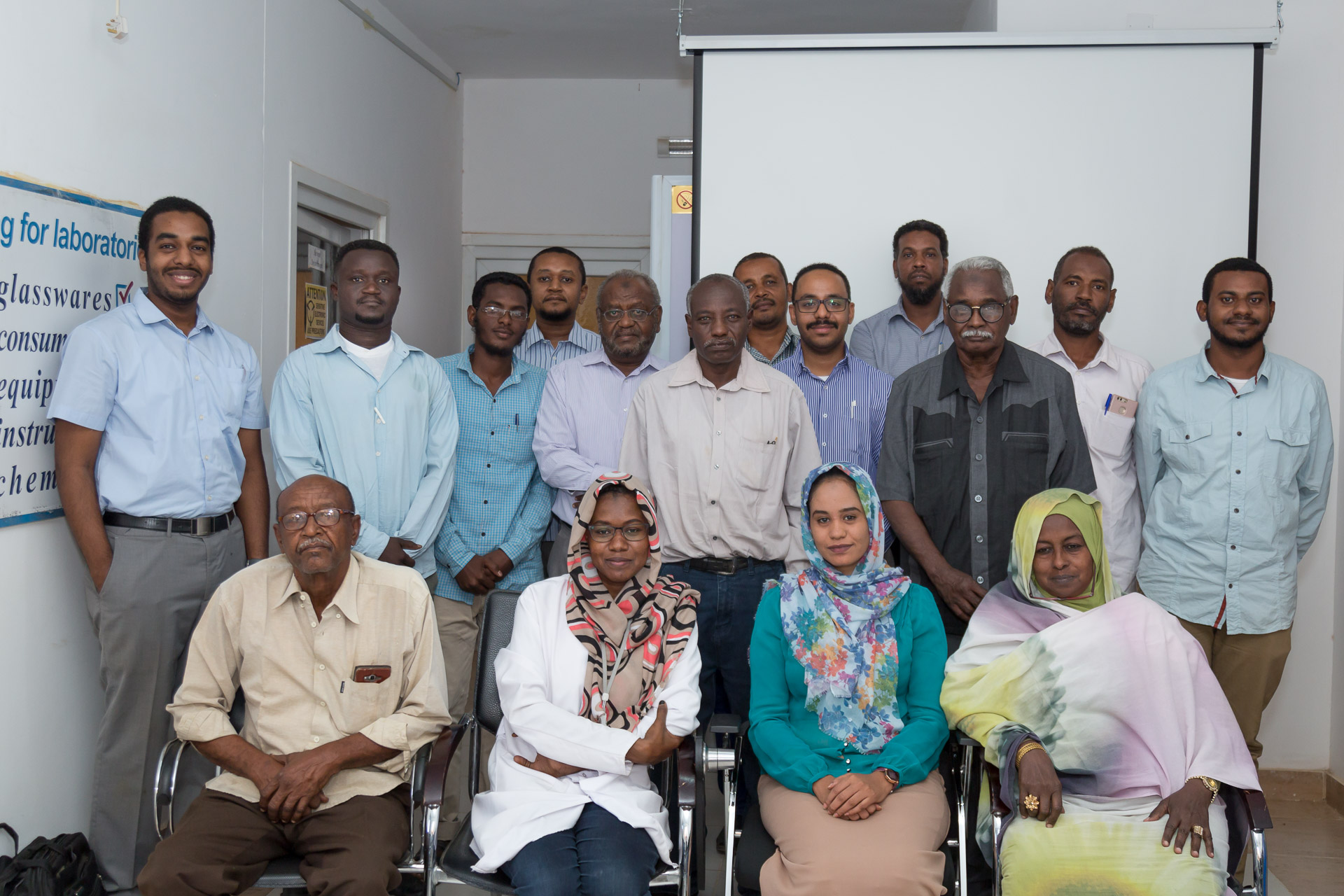 Khartoum 29 - 31 Oct 2019
Prime Scientific, in collaboration with Shepherd Scientific Solutions (SATS) has conducted a course on the basics and practice of atomic absorption spectroscopy (AAS). The training course was conducted along a series of three days; facilitated by Mr. Kamal Ismail LRIC, MRIC, FIST (Atomic Spectroscopy and Analytical Chemistry, SATS) , Mr. Abdalfatah Nogod, Msc. (Molecular Spectroscopy and Analytical Chemistry, SATS), and co-facilitated by Dr. Mohamed Adam PhD (Chromatography and Analytical Chemistry, SATS), and Eng. Muzafar Imad (Technical Manager and Certified AAS Service, Prime Scientific).
The training program covered the basic theoretical concepts of atomic spectroscopy as well as practical training on the instrument and its operation. The participants learned how to calibrate, operate, and maintain an AAS instrument.
The training also touched on the do's and don'ts of operation, with focus on safety and proper use by the laboratory chemist.
The participants were from different fields of industries such as mining and agriculture; and the discussion proved to be fruitful in the knowledge sharing and understanding of the fundamental principles of AAS.
Training in Theory and Practice of Rotational Viscometry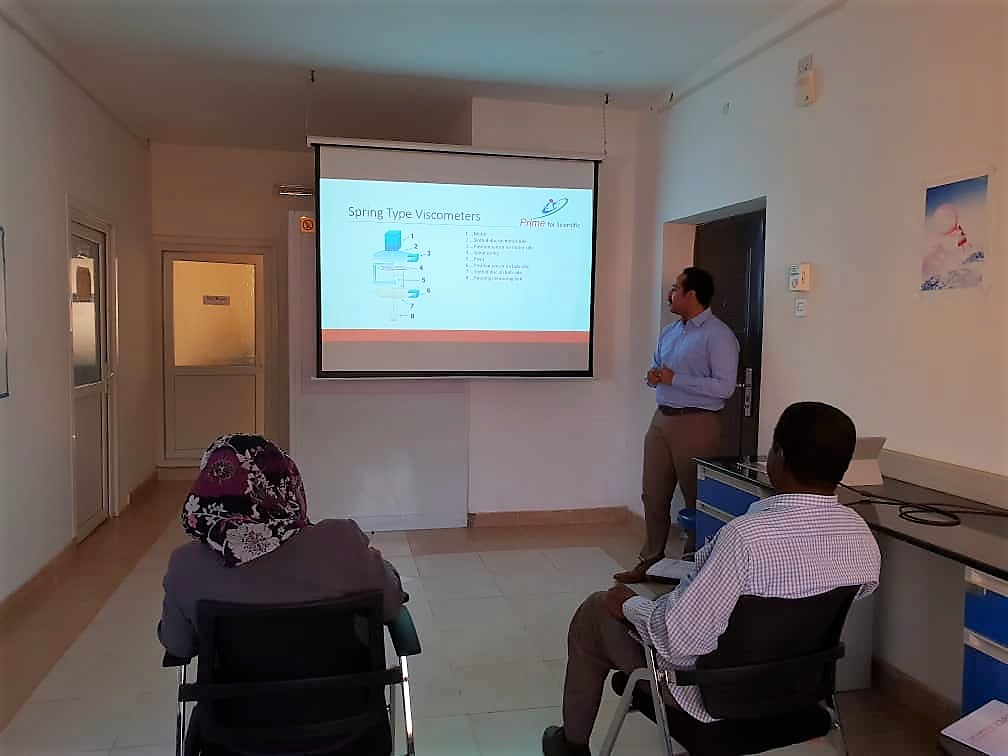 Khartoum 14 - 29 Dec 2018
Prime Technical Center hosted a series of seminars in the subject of the theory and practice of rotational viscometry. Several attendees from different sectors and industries attended the seminars. The seminars focused on the application of viscometry in measurement of different materials and the theoretical considerations for operating a rotational viscometer. Rheometry was introduced to the attendees along with its guiding concepts. The practical application in the laboratory included instructions on calibration, measurement, and instrument care. Various troubleshooting ideas were discussed and the seminar day was wrapped up with valuable discussions from the attendees.
Application Training in Microwave Digestion for Central Petroleum Laboratories in Anton Paar Technical Center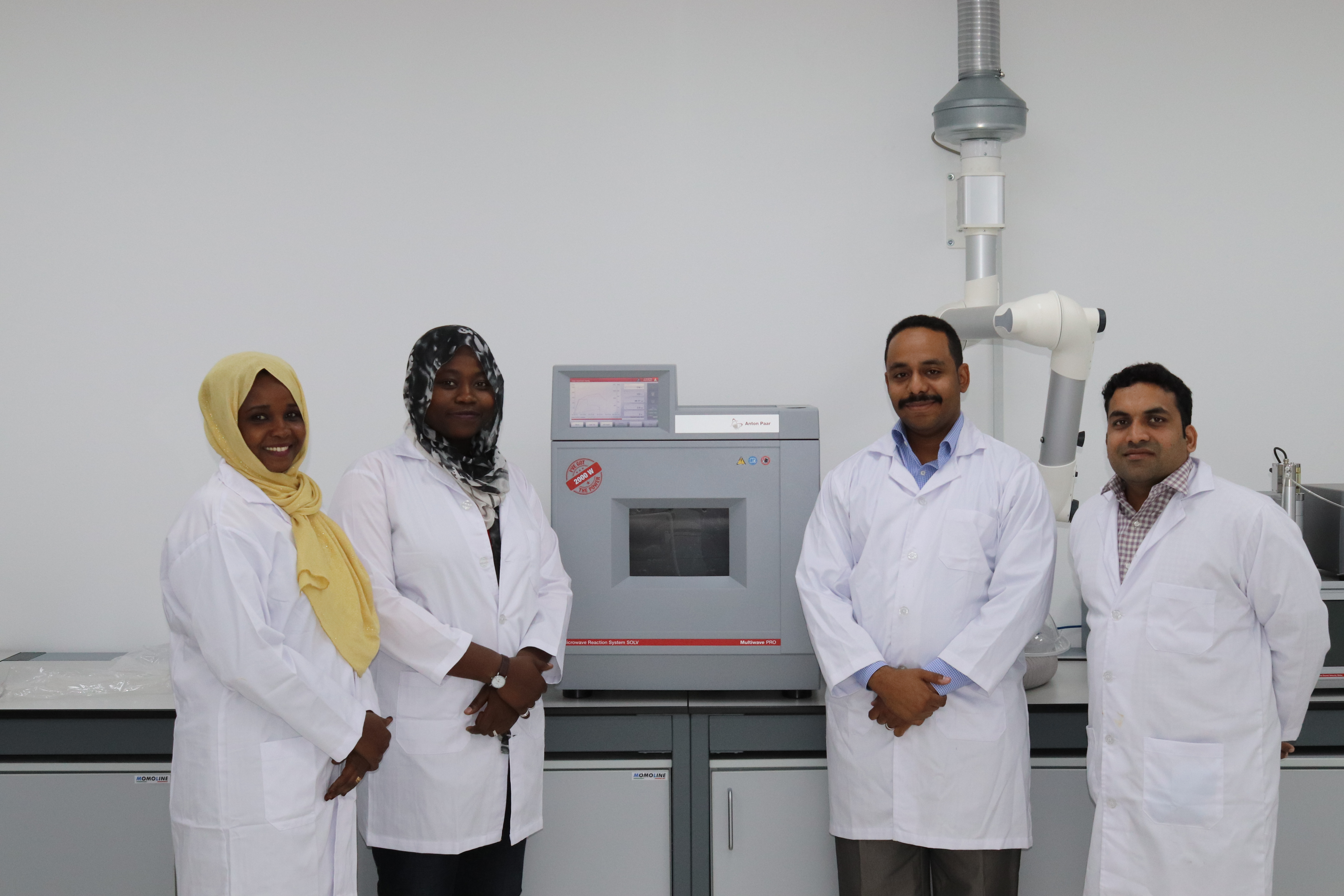 Dubai 7 - 8 October 2018
An extensive application training was conducted at the Anton Paar Middle East Technical Center in Dubai for two specialists of sample preparation in the Central Laboratory for Research and Studies, the reference laboratory for all petroleum studies in the Ministry of Petroleum in Sudan. They were accompanied by Mr. Ziryab A. Ahmed of Prime for Scientific, the responsible person for Anton Paar instruments in Sudan.
The training was conducted by Dr. Sultan Singh of Anton Paar India, and covered a wide range of subjects and topics like: method development, method optimization, basic preventive care and cleaning protocols, as well as basic trouble shooting. Various samples were practiced in the microwave system, and the participants were able to learn how different samples are handled, and the underlying principles in developing methods for new or unknown samples.
Specialized Training event for Khartoum Refinery and Fuchs Lubricants in Anton Paar Technical Center
Dubai, 23 - 25 July 2018
A personalized training seminar was conducted for laboratory engineers from Khartoum Refinery and Fuchs Lubricants in the Anton Paar Middle East Technical Center in Dubai. The training seminars spanned three days and covered different applications like: density and concentration measurement, viscosity measurement, and rheology measurement. The participants were trained by the application specialists from Anton Paar, Dr. Ornov Maulik, and Mr. Ranju Nair; and the participants were able to understand different applications and various tips and tricks on using the instruments in the laboratory, in addition to intensive practical training on the instruments and their applications.
The participants were very satisfied with the course, and as Mr. Fageer Abdalla, Quality Manager of Fuchs said: " We thank Prime for arranging this workshop with Anton Paar, our trainees were very happy with the outcome, and we hope our fruitful relationship continues further and further."
Zadna Training Workshop : Operation and Use of ICP-OES and HPLC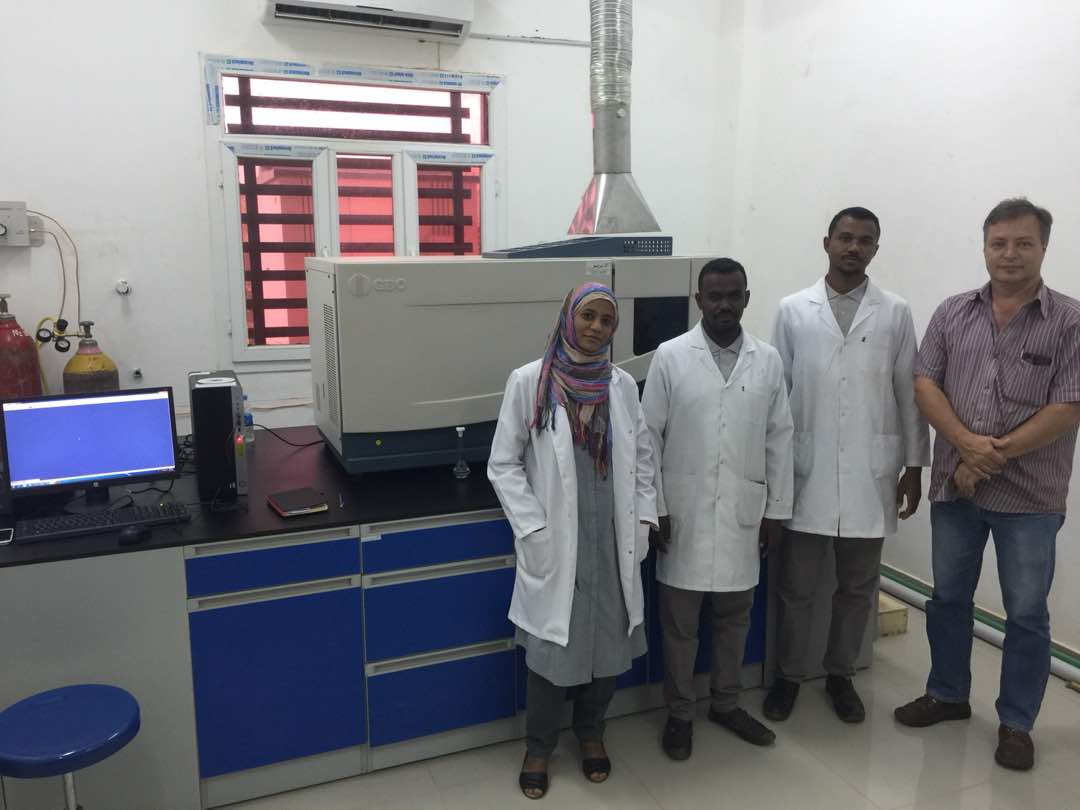 Khartoum, 7 - 13 July 2018
The laboratory technicians in Zadna Laboratories for Agricultural and Soil Research have participated in an intensive 6 day workshop on the operation and use of analytical instruments: ICP-OES, and HPLC. With the aid of Mr. Roscoe Dickinson, the GBC specialist in Africa, and Eng. Muzafar Imad, Prime's certified GBC engineer, the participants were able to know the operation and basic maintenance of the GBC Quantima ICP, and HPLC.
In the training, various topics were discussed, such as: instrument initialization, software operation, sample introduction, and interpretation of results along with the basic care and maintenance required for the proper sustainability of the instruments.
This training workshop was a great opportunity for the Zadna team as for some of them, it was the first experience in operating ICP and HPLC.
At the conclusion of the course, some of the participants were impressed with the amount of intensive information they were able to acquire, and they stated that it would greatly aid them in operating their newly acquired instruments in a satisfactory manner.
Prime Technical Center: Basics of Microwave Digestion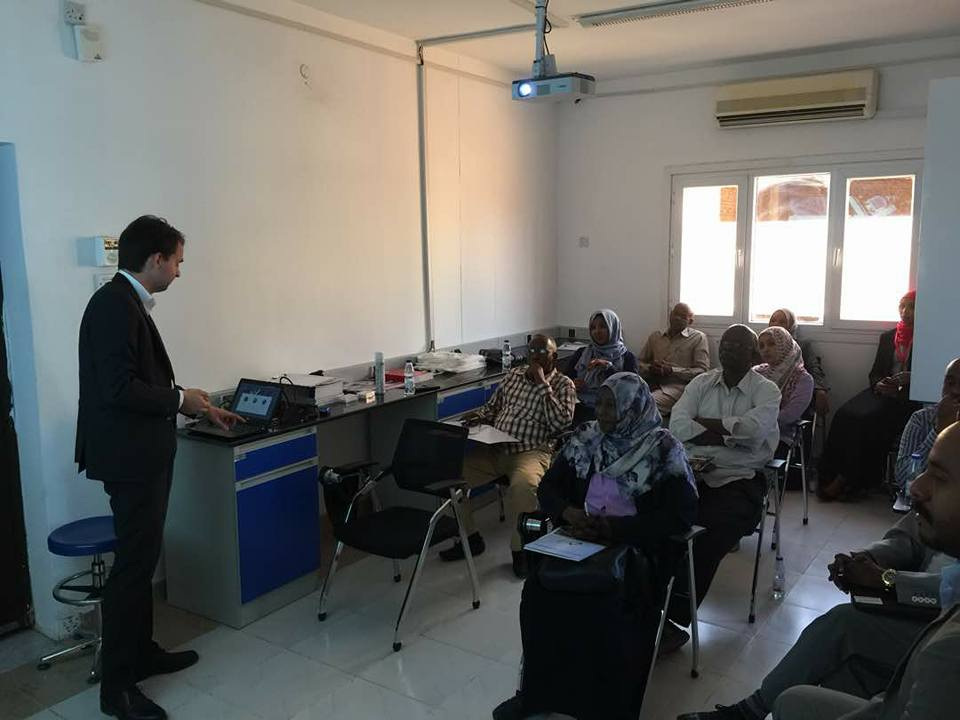 Khartoum, 15 November 2017
As part of the launching event of the Prime Technical Center, a workshop was conducted by Dr. Hannes Schleifer from Anton Paar GmbH in the application of Microwave Digestion. Several participants from various organizations participated, especially government test labs.
After a brief introductory seminar by Dr. Imad Ahmed, the Managing Director of Prime, Dr. Hannes Schleifer presented the different technicalities and applications of the microwave digestion systems from Anton Paar, namely the Multiwave PRO system.
A point of discussion which received much interest from the attendees was the issue of recovery percentage of elements of interest after sample preparation. After comparing the traditional methods with the microwave methods, the attendees were impressed by the high recovery percentage possible by microwave digestion.
Dr. Ashraf Sherif, a researcher at the National Center for Research, noted that by using traditional methods, they were not able to exceed 66% recovery for most of their samples, and that they were quite impressed by the recovery rates of microwave digestion systems which may reach up to 95% or more,.
After the refreshments, the participants contributed to a lively discussion and several queries and issues were answered.
At the end of the seminar, the participants thanked Dr. Schleifer for his valuable insights, and agreed that microwave digestion is indeed a solution for the future.
: