Flamephotometers and Accessories
Model PFP7 Flame Photometer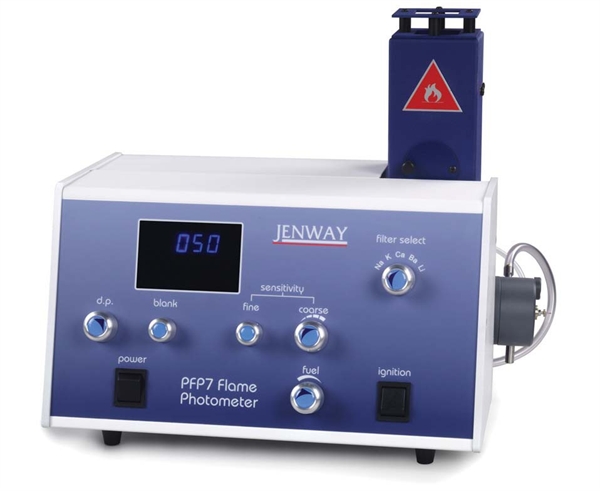 Model PFP7 Flame Photometer, digital, fitted with electronic flame fail safe and supplied with Na, K, Li, Ba & Ca filters, connecting hoses and clips, compressor plug, drain trap, fuses and operating/service instructions, for use on 230V 50Hz. Jenway United Kingdom
Flame Photometer Accessories
The Jenway flame photometers are not supplied with the following accessories but some, e.g. the air compressor and gas regulators, are necessary to run the flame photometer.
A water separator is recommended to remove any residual water from the compressed air supply. The size of water separator required depends on the local humidity. If there is high humidity then the large water separator is recommended.
Gas regulators are needed to regulate the pressure of fuel being inputted into the flame photometer.
A fuel filter is recommended to ensure that no particulates get into the mixing chamber from the fuel supply.
To complement the Jenway range of flame photometers there are several calibration standards offered to enable accurate calibration of the flame photometer. All calibration standards are 500ml unless otherwise stated.