Kjeldahl Digestion and Distillation
Kjeldahl Rapid infrared digestion System for Kjeldahl Nitrogen Determination
Item Code: InKjel 625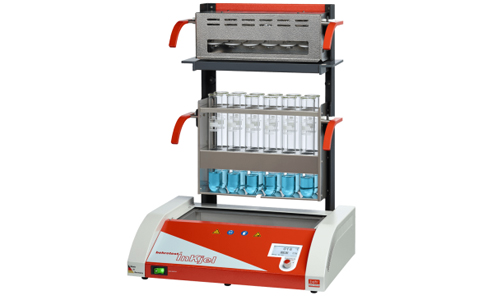 Kjeldahl Rapid infrared digestion System for Kjeldahl nitrogen determination with 6 x 250 ml, sample vessels and constant level heating timer. Fitted with a high power infrared heater.
Products of behr IR are fitted with a high performance infrared heater. Quality and positioning guarantee identical heating phases and digestion temperatures at all sample positions, both in single and double-row arrangements.
High-quality quartz radiators ensure particularly uniform heating at all sample positions

Direct heating of the samples through infrared radiator achieves short heating times

Extremely simple and fast programming per one-button operation

Menu designed in various languages

10 freely configurable programmes for energy and digestion time (only programmable models)

Rack with fume removal unit

LCD-display

Digestion vessels: 250, 400 and 800 ml

RS 232-interface

CE-conform and certified
behr Labortechnik Germany
Kjeldahl Steam distillation System, Semi-automatic Version
Item Code: S1



Kjeldahl Steam distillation System, Semi-automatic version, NaOH is added and distillation started and ended at the touch of a button, Encl. set of canisters for H2O and NaOH.
The Steam Distillation Units behr S1 are real 'all-rounders' in sample preparation. With these devices, proteins, nitrate, nitrite, ammonia, volatile acids, ethanol, formaldehyde etc. can be measured in different samples.
A typical field of application is the treatment of subsequent Kjeldahl digestion by distilling ammonia in an acid receiver. Furthermore, volatile preservatives in canned fish or meat salads are distilled to subsequently carry out a photometric
determination. Steam distillation is also used to separate alcohols in spirits (e. g. egg or cream liqueurs) for later quantitative analysis.
The unique versatility of the behr S1 units are underlined by their additional use in water and environmental chemistry for the determination of volatile organic acids (e. g. sewage sludge).
behr Labortechnik Germany