Cora 100 Portable Raman Analyzer



Cora 100 is a real handheld Raman spectrometer with a small footprint of 16 cm x 10 cm x 3 cm and a weight of only 650 g. The Raman analyzer has successfully been tested according to military specifications, MIL-STD 810G, as well as European tests for dust and water, and is defined as "IP67 waterproof". Cora 100 doesn't care whether it is hot, cold, humid, wet, or dirty – the handheld spectrometer is built for operation in the field and can be used in harsh conditions (between -20 °C and +40 °C).
Cora 100 has inbuilt chemical intelligence. Spectral databases stored in the Raman analyzer quickly identify hazardous materials, narcotics, explosives, and chemical warfare agents. The result gives you more than a cryptic chemical name, it also tells you whether a substance is listed or regulated, or a known precursor of such a compound. Additionally, CAS numbers and safety data are provided. For increased customization you can easily create your own personal library and add new spectra if required.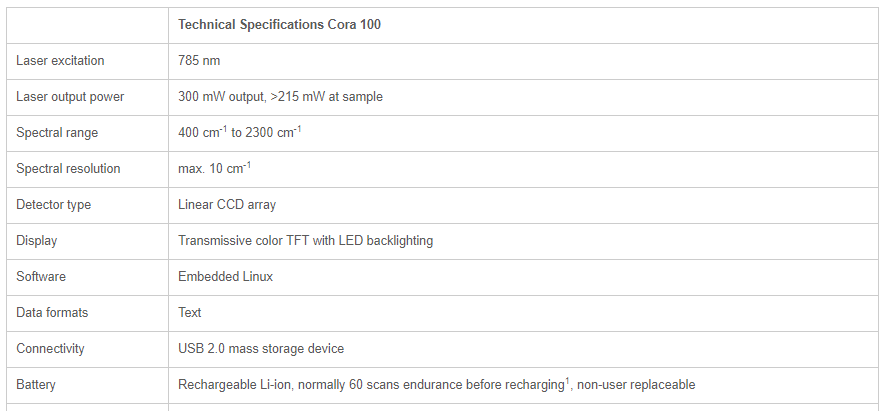 Cora 5X00 Series: Compact Raman Analyzer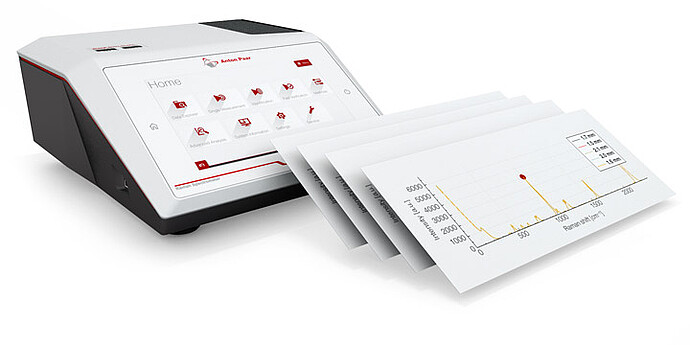 The Cora 5X00 series combines the small footprint – about the size of an open laboratory book – with the performance and the high repeatability of a benchtop instrument. You can choose between a single-wavelength (Cora 5100, Cora 5200, or Cora 5300) and a dual-wavelength instrument (Cora 5500, Cora 5600, or Cora 5700) in order to achieve measurements with maximum Raman signal and minimum fluorescence background. The spectrometer can be directly operated as a space-saving stand-alone instrument via embedded PC and touchscreen or, alternatively, via an external tablet or PC. The battery option increases the mobility of your Raman spectrometer and allows use during incoming goods inspections or in the laboratory, for example.
One instrument – Different kinds of sample
Different samples require different excitation wavelengths to achieve the best possible Raman signal. Generally speaking: the shorter the wavelength, the stronger the Raman signal. Many colored substances or colorless organic compounds show strong fluorescence, which superimposes the Raman signal. In this case, a lower wavelength usually provides a better Raman signal. The Cora 5100, Cora 5200, and Cora 5300 Raman spectrometers give you the chance to choose the optimal wavelength for the sample to be examined: 532 nm, 785 nm, or 1064 nm. You want to measure different samples? Cora 5500 (532 nm and 785 nm), Cora 5600 (532 nm and 1064 nm), and Cora 5700 (785 nm and 1064 nm) combine two wavelengths in one instrument: You can switch the wavelength within seconds with just a press of a button.
Minimum sample preparation – Tailor-made accessories
Independent of whether the sample is solid, liquid, or powder, the Cora 5X00 Raman spectrometers offer the appropriate sample holder for vials with various diameters and shapes (round, square, rectangular), for pills, or solid shapes. Equipped with magnets, the holders are quickly and precisely positioned into the instrument, making sample measurement possible without refocusing.
Samples in packaging or on pallets – "Drive-by" measurement with a fiber probe
Generally, you can execute Raman measurements through glass and plastic packaging. Thus, toxic samples do not need to be taken out of their packaging. If the samples are already in transparent vials, the vials do not need to be opened for the measurement. With the fiber probe of the Cora 5X00 Fiber instrument, it is also possible to measure samples in large packaging which does not fit into the instrument properly. The fiber probe gives you a 1.5 meter area around the instrument in which to measure.
For the incoming goods inspection, a "drive-by" station with Cora 5X00 Fiber can be set up in order to investigate incoming substances as they pass through, without having to extract and handle samples.
Easy and safe – Ideal for educational purposes and non-specialized users
The handling of the Cora 5X00 Raman spectrometers can be learned within minutes, even by inexperienced users. Your new employees or students are able to conduct measurements within a very short time.
In contrast to many handheld instruments, the Cora 5X00 series provides extra safety due to a sample chamber. The laser can only be activated if the chamber is closed. Thus, the laser does not pose a threat to people working in close vicinity to the device.
Robust – No moving parts
The Cora 5X00 Raman spectrometers are non-sensitive to movement and have no moving parts apart from the fan. The spectrograph is shock-resistant, making it perfectly suitable for daily work in industry or in the student laboratory.
Everything in view: PC, WiFi, and VNC
The Cora 5X00 Raman spectrometers can be operated as stand-alone instruments via the integrated touchscreen, or as external instruments with an optional external tablet PC connected via WiFi or VNC. If an external PC is preferred in order to operate the Cora 5X00 via desktop software and to directly save data on a server, you can simply connect the PC via USB.
Technical Specifications: