Density and Concentration Meters
DMA™ 35 Portable Density Meter Version 4
Item Code: 172244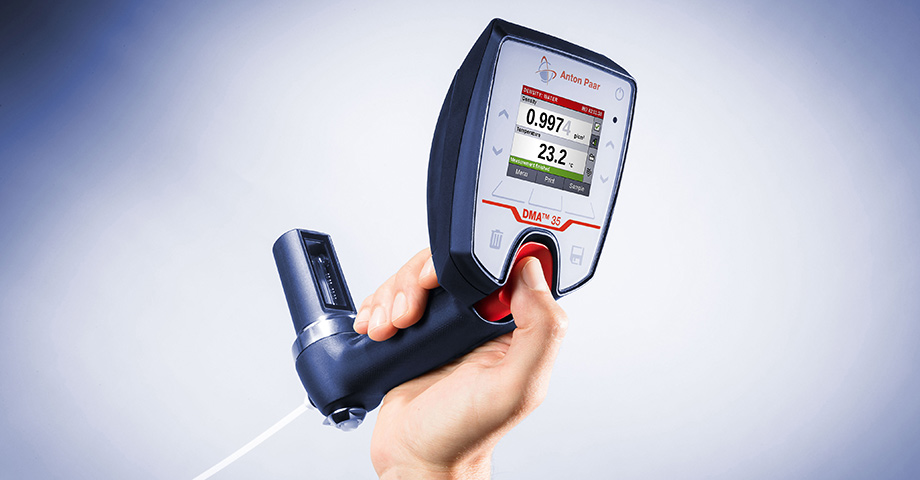 DMA™ 35 is your portable digital meter for determining density, specific gravity, and concentration. It employs the oscillating U-tube principle
Technical specifications
Density: 0 g/cm³ to 3 g/cm³
Temperature: 0 °C to 40 °C (32 °F to 104 °F)*
Viscosity: 0 mPa·s to 1000 mPa·s
Temperature: 0.2 °C (0.4 °F)
Temperature: 0.1 °C (0.2 °F)
Temperature: 0.1 °C (0.1 °F)
-10 °C to +50 °C (14 °F to 122 °F)
Density, density at reference temperature, specific gravity, alcohol concentration, sugar/extract concentration, °Baumé, API functions for product groups A, B, and D for reference temperatures of 15 °C, 20 °C, 29.5 °C, and 60 °F, H2SO4 concentration, ten programmable custom-specific measuring units
245 mm x 103 mm x 126 mm (9.6 in x 4 in x 5 in)
1024 measured results, 250 sample IDs, 30 measuring methods
Power supply Three 1.5 V LR06 AA alkaline batteries
Weight 660 g (23.3 ounces)
Interfaces Bluetooth®, RFID
DMA™ 501 LABORATORY DENSITY METER
Item Code: 186376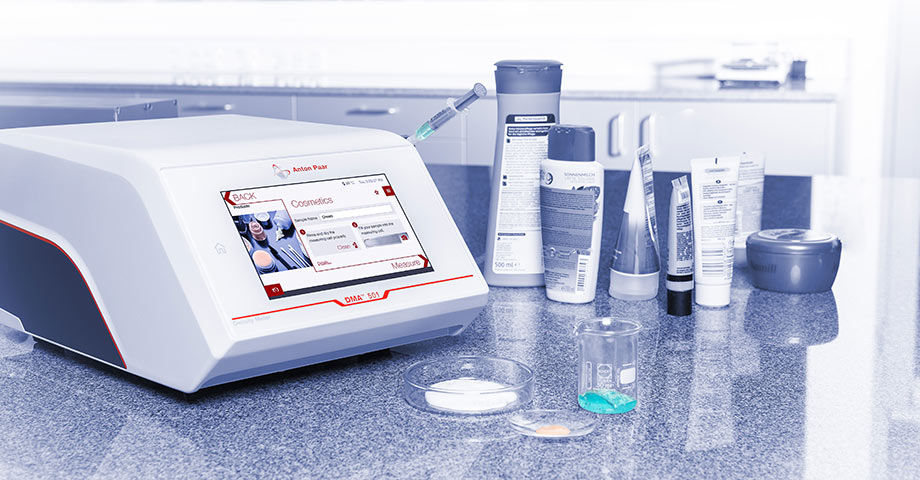 Compact, user-friendly instrument, measuring the density, specific gravity and concentration of liquids based on the oscillating U-tube technology. With a built-in solid state thermostat, automatic viscosity correction, filling error detection (FillingCheck™) and live-view of the measuring cell (U-View™) supporting correct sample filling.
Technical Specifications
Temperature: 0.3 °C (0.6 °F)
Temperature: 0.1 °C (0.2 °F)
Temperature: 0.01 °C (0.01 °F)
+5 °C to +35 °C (+41 °F to +95 °F) permissible operating temperature
LABORATORY DENSITY METER DMA™ 1001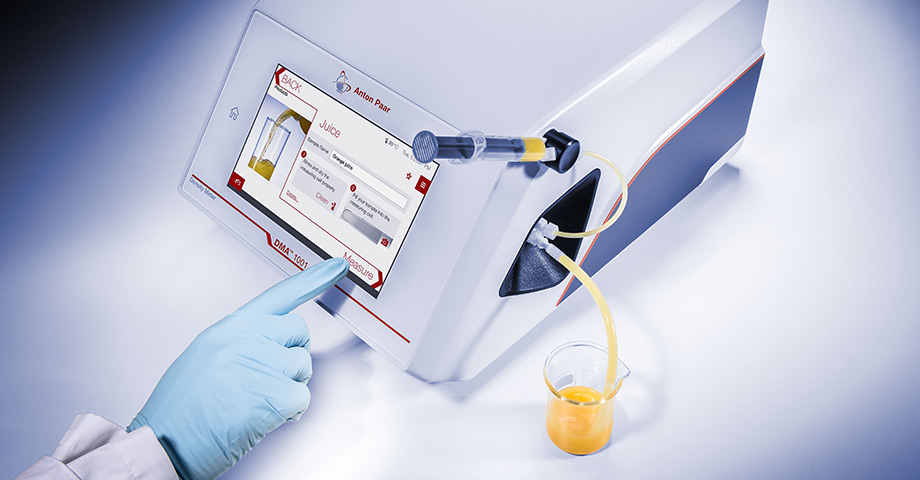 DMA™ 1001 has everything that industry standards for density measurement stipulate: 4-digits in density measuring accuracy. Based on comprehensive knowledge of the oscillation characteristics of the newly designed measuring cell, the applied patented Repeated Fade-out Method delivers the most stable density results.
But there's more: the new unique one-point water adjustment is the quickest way to get your highly accurate measurement work started and is only available with DMA™ 1001.
Patents granted AT516420 (B1)
Density: 0 g/cm³ to 3 g/cm³
Pressure: 0 bar to 10 bar (0 psi to 145 psi)
Temperature: 15 °C to 60 °C (59 °F to 140 °F)
Accuracy: Density: 0.0001 g/cm³
Temperature: 0.05 °C (0.09 °F)
Integrated tables and functions Density, Specific Gravity (SG), alcohol tables, sugar/extract tables, various acid/base tables, API functions
DMA™ 4100/4500/5000 M LABORATORY DENSITY METER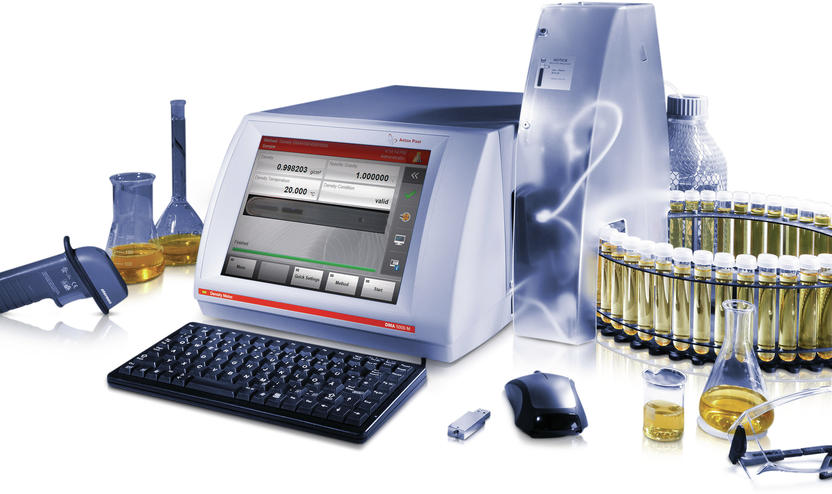 ASTM D4052, ASTM D6448, ASTM D2501, ASTM D5002
For the determination of density and density-related values of liquids and gases based on Anton Paar's U-tube technology. Includes patent registered state-of-the-art technologies exclusively available from Anton Paar: ThermoBalance™ for fast temperature changes without readjustments. FillingCheck™ and U-View™ for error-free measurements. Automatic and rapid full-range viscosity correction. Modular system for easy expansion, e.g. to include automatic sample filling units. For detailed information please refer to Anton Paar product documentation, or contact Anton Paar GmbH
Included Accessories
2 m hose 3 x 5 mm silicone
2 # injection adapter Luer
1 # Phillips screwdriver PH-0x40
2 # Protection foils for touch screen
1 # density standard. "ultra pure water" 5x10ml with certificate
Technical Specifications: